At RX Home Health Services, Inc., our nurses understand how delicate the health of a patient can be after major surgery or while recovering from an illness or injury.
Taking into consideration the medical and non-medical needs of the patient, our registered nurses conduct a total body assessment of the patient on their first visit, review all medications and medical history.
This is done in an effort to collaborate with the physician and develop the most appropriate plan of care.
Our licensed nurses are carefully chosen for their dedication to caring for the patient and their specific skills.
Every nurse employed by RX Home Health Services, Inc. has completed a Level II FBI background check and all competencies have been evaluated. This is important because we will only send the most qualified Medicare nurses to our patients.
Because of the high standards that we keep, our clients show dramatic progress in their recovery.
Our nurses have specific expertise in caring for patients with the following needs:

Physical Therapy
Services

RX Home Health Services, Inc. employs highly qualified physical therapists and physical therapy assistants to provide physical therapy to our valued patients.
When a physician orders physical therapy, our therapist will conduct a thorough evaluation based on the individual needs of the patient and will develop the most effective home exercise program.
There are many benefits to having home physical therapy. Among them are:
Physical Therapy
Services May Include

Effective occupational therapy can be instrumental in maintaining independence at home.
At RX Home Health Services, Inc., our team of occupational therapists have an excellent track record in providing therapy to patients to assist them in regaining the skills needed to function independently - such as dressing, eating, toileting and bathing.
We work closely with their physician to develop activities that will restore their ability to perform activities of daily living (ADL's).
Only Medicare guidelines require that during the first 60 days of home health care, occupational therapy must be provided in conjunction with skilled nursing or physical therapy or speech therapy.
RX's speech therapists (also known as speech-language pathologists) are dedicated to helping clients with speech, language and swallowing disorders. Our speech therapist evaluates speech patterns and swallowing abilities of the patient.
The therapist will work with your physician to develop a therapy plan that will improve speech function to the highest level possible.
Speech Therapy Can Include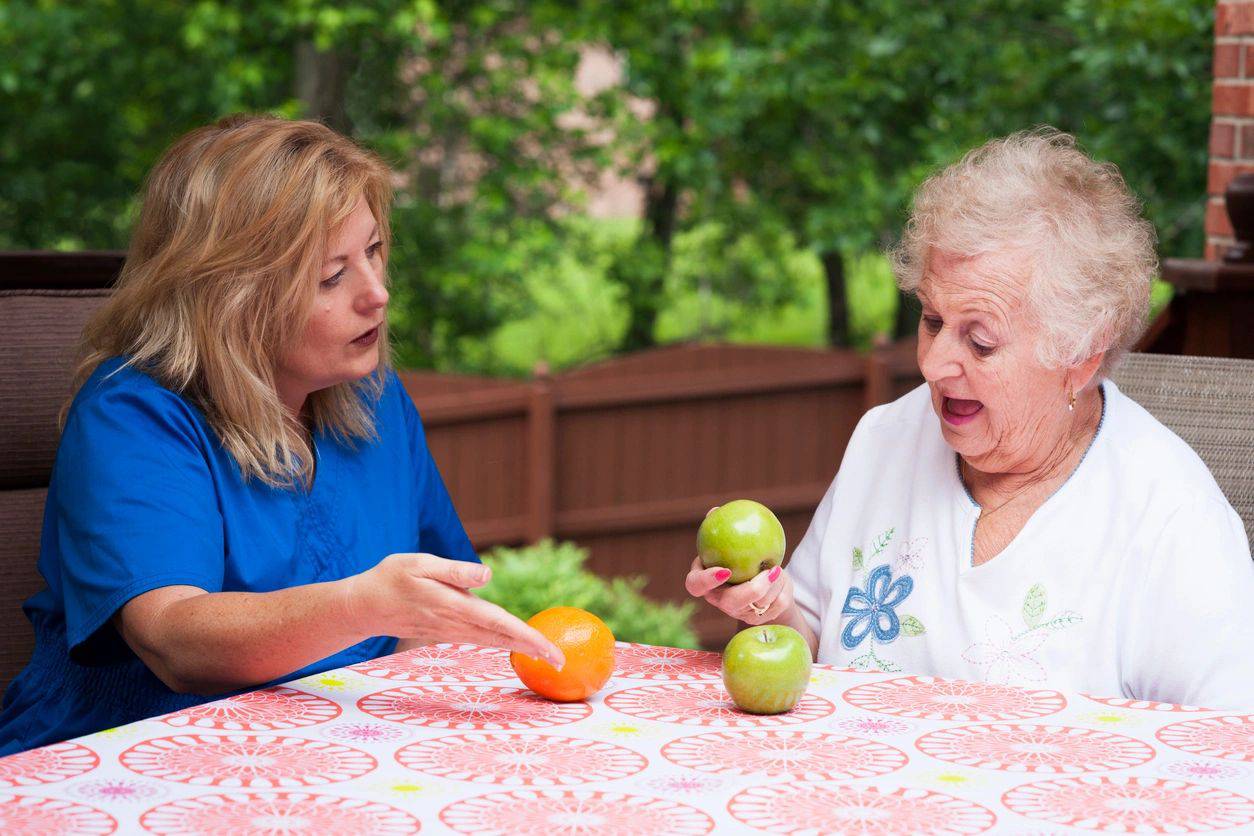 Along with registered nurses or therapists, a medical social worker will work with the home health care team.
They Will Provide
RX's medical social workers hold Masters Level graduate degrees or are licensed clinical social workers with significant experience in working with patients and families who are in need of counseling and support services. Medicare covers this service only in conjunction with other skilled services being provided in the home.
The benefits of proper nutrition enable individuals to make the most out of life. With the support and guidance of a registered dietician, a nutritional program can make all the difference in fighting a disease or even healing a wound. Our registered dietician will consult with your physician, review your lab results and develop the most appropriate balanced diet that will promote healing and a healthy lifestyle.
Patients who are newly diagnosed with diabetes, heart disease, CHF, arthritis and other diseases can benefit greatly from RD services.
This service is not reimbursable under Medicare or any other insurance. However, we will provide this service at a considerable discount for patients who are under our care.
RX Home Health Services, Inc. offers home health aides to provide care under the direction and supervision of an RN or a Therapist. They can provide and assist patients with personal care and hygiene. They also help maintain a safe environment.
These May Include
According to Medicare regulations, home health aide services are not a "stand-alone" service and must be provided in conjunction with prescribed skilled nursing or therapy services. We will be happy to explain further.